Right, here is anything I could find about the 3 series of the Sarah Jane Adventures :)
Part1
Sarah Jane and the gang face the most dangerous day of their lives, as the rhino-like Judoon return. When prisoner Androvax the Destroyer crash-lands on Earth, a Veil is set free and starts to turn Earth's technology against itself. And his next intended victim is Sarah Jane.
Part2
As the Judoon fleet approaches Earth, it's a race against time to stop Androvax. But with Genetech's technology on the rampage, and Rani's parents taken prisoner, can anything stop the Army of the Infinitesimal?
Lis Sladen:
"I love one and two, because I'm evil Sarah Jane, and I absolutely relished it – it's great! I said to Phil Ford, 'Why did you think I could do that?' and he said, 'It's something you did or said last year', so I thought 'Oh… They do listen!"
The only bit that was reported took place in the Biosciences Building on Park Place.
Clyde and Rani were spotted, as well as Paul Kasey inmn a Judoon outfit (minus head).

The actual filming was inside a lab with computers on the desks and some sort of cabinet full of glass bottles which were lit up. Also, spotted outside the lab were some spare doors with a large hole in them.

The Mad Woman in the Attic
Sarah Jane is classified as mad, when she frequently appears at 'alien sightings' and Luke is taken from her, because she is supposedly putting him in danger.
Lis Sladen
"Three and four my husband [Brian Miller] is in, which is brilliant. That was in the rain on Barry Island. If you've ever been on Barry Island, with or without rain, you would remember it. I got a chest infection on Barry Island! You look at it and you don't see the terrible weather we had - it was a nightmare for poor Alice [Troughton, the director], it really was..."
There doesn't seem to be any other info for this episode, but keep in mind that we've got the 'monsters who want to infect Earth with a strangely aggressive weed' storyline which is unaccounted for.

Some filming took place at Barry Island on the beach. Unfortunately the actual filming of any scenes was missed, but you can still see the evidence of them being there!


The Wedding of Sarah Jane Smith
Sarah Jane has finally found the man she wants to spend the rest of her life with. And as the wedding draws near, there's only one man she wants to invite, the Doctor himself....
Lis Sladen
"A great story. It's by my lovely Gareth – he's lovely because he knows Sarah so well, he knows Doctor Who so well. He puts little things in sometimes, where I look up from a read-through and maybe only he and I and Russell and someone else will spot them! It's really nice to have those little moments."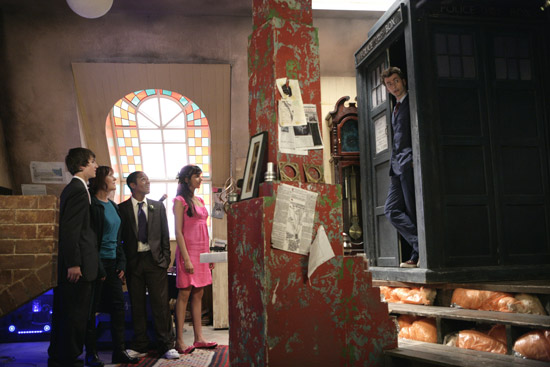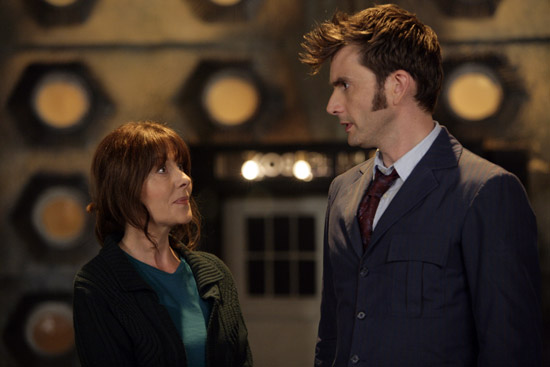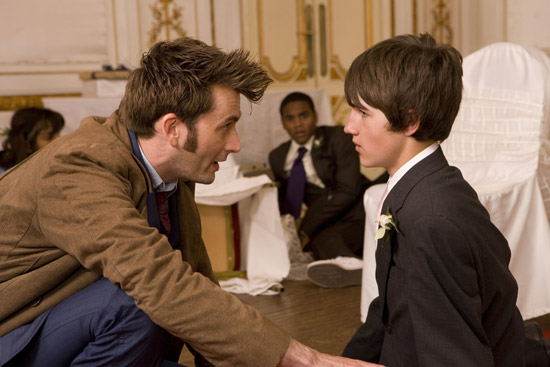 Filming
I'm not very good at reading slates. But at a guess I'd say the scene filmed was for episode 5 and its scene 8 and 9.1
And included in the filming was the kids, Sarah Jane, and her new parter (played by Nigel Havers)
The scene filmed was quite simple. SJS & her man are in the restaurant. Clyde, Luke and Rani all sneak round the corner and peer into the restaurant. They obviously see something amiss, turn around and look shocked to each other.... 

There was also news of filming in
Dyffryn Gardens
and
Colman Manor
, which by the looks of them could both be for a wedding type scenario.
This episode features an extraterrestrial girl that can make people play games against their will. The main villain is called Erasmus Darkening, played by veteran actor Donald Sumpter.
Lis Sladen
"The haunted house one is incredibly scary - I mean I even screech in it when something happens! Danny [Anthony, who plays Clyde] went to the loo and he wouldn't look in the mirror - when he came back out from washing his hands, he flew out!"
Someone managed to catch the tail end of a shoot where they were using a creepy looking house, and Clyde was there with director Joss Agnew. Obviously this must relate to the haunted house episode, which is also apparently a Luke lite (since Tommy was doing his GCSEs)
Mona Lisa's Revenge
This episode takes place in a museum. In fact, it takes place in the "International Gallery", last seen in Planet of the Dead!
And as the title of the episode suggests, this will be about a painting coming to life and taking revenge for some sort of injustice or whatnot.
The main scene witnessed is one with Rani's Dad taking a bunch of schoolchildren (including Rani, Luke and Clyde) to see the Mona Lisa. 
He stands on the steps outside and says:
"Hand your phones in at reception, and NO RUNNING." 
Everyone starts to run up the steps, with a struggling kid at the back, probably asthmatic, being helped along by a teacher. 
"NO RUNNING! We're here as honoured guests, not as some kind of hormonal SAS!" 
Nobody's listening, so he exasperatedly bolts up the steps after them, hurrying the boy and the teacher out of the way.

As well as this, a scene was witnessed with Sarah Jane, the headmaster & hoards of schoolkids on the museum steps. Lis' stunt double was there too, which implies there might be some action happening.

Also spotted between filming were some policemen, a guy in a black costume with a black scarf over the bottom half of his face, highwayman-style, and there was a dark-haired woman in a deep blue velvet dress & black veil on her head, who may be Mona Lisa.
The Gift
A CBBC literature statement confirmed both the Slitheen and Blathereen (their orange cousins) would appear in this episode.

There doesn't seem to be any other info for this episode, but keep in mind that we've got the 'monsters who want to infect Earth with a strangely aggressive weed' storyline which is unaccounted for.
Filming happened both at Hawthorn and Cardiff High School. Its been used as the kids' school in SJA before so it doesn't seem unlikely to be the case again!
A huge huge thanks to everyone who reported, we are indebted to you! Unfortunately I forgot to collect the names as I went along, so sorry you are not properly credited :)