In an alternate reality, we wish the Sarah Jane Adventures was still airing. Hell, in
this
reality we wish that too! Watching
Ultimate Sarah Jane
on CBBC gave us this amazing idea... what if it was still running? What could the stories be like? Phil Ford I hope you are reading this...!
Ruby White Returns!
In
Goodbye, Sarah Jane Smith
, Ruby White swore revenge and that's exactly what she's back for. As it turns out, the ship she was trapped in did hurtle towards the sun, but who better to save her than the Trickster himself? In a dramatic turn of events, Ruby White double crosses the Trickster and does it solo!
Rani's Parents Find Out!
All the excuses suddenly come to a head when Gita and Haresh find out that Rani has been meddling with aliens! But how do they take it?
More Professor Rivers!
Seeing Floella Benjamin in
SJA
is such a delight and of course, she would continue to be awesome in a quirky way whilst assisting her galpal Sarah Jane to save the world!
Sarah Jane Adventures does Glee!
An alien canister from the planet Songalore falls through space and time and lands in Ealing, only to give everyone the singing bug! The gang can't resist bellowing out a few songs... yeah that's a bit ridiculous, isn't it? How about a silent episode (
not to be confused with this lot
) where some alien steals all the sound?
More BURPSS!
We loved Ocean and Minty, so in our fantasy SJA series, they would return and continue to be generally amazing in a mocking yet endearing way.
Sky becomes Queen!
Of course, the finale would involve the Fleshkind coming to Earth to rescue Sky, claiming that she is the new Queen of the Fleshkind... but what do they really want with her? (hint hint - the Fleshkind are really Slitheen who want to capture her and trade her with the Fleshkind to buy their planet!)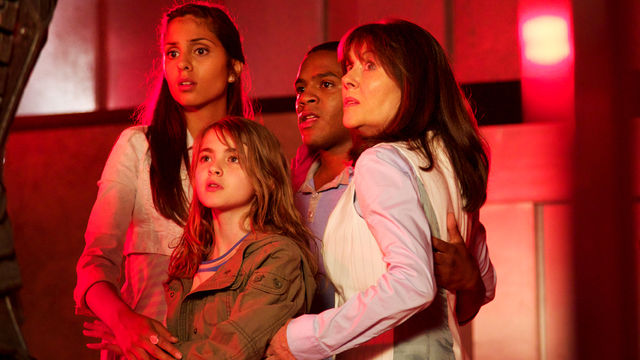 So what do you think? Do you have any ideas? Send them in to us!